UDC's for VK contests
N1MM Logger setup for VK contests.
N1MM Logger setup for Call History.
N1MM Logger setup for HF and VHF VK contests.
N1MM Logger setup for Waterfall Band map.
N1MM must be the latest version and set up correctly for the UDC's to work and score properly.
Help is below but for all the good info please
UDC Downloads
Download the zip file and extract and copy into relevant folders. If a PDF exists, please read it.
Do not modify the files in anyway, including their file name.
N1MM LOGGER - How to setup VK UDC's for VK contests.
Check these off as you go... Examples below.
Download the UDC> from above links - if there is a PDF, then read it first.
Unzip the file and open in windows explorer as you will need to copy them to certain folders.
Copy the UDC file to My Documents/N1MM Logger+/UserDefinedContests
If there is a vkzl_cty.dat file or similar, then copy it to MY Documents/N1MM Logger+/SupportFiles
If there is a Call History file, Copy it to My Documents/N1MM Logger+/CallHistoryFiles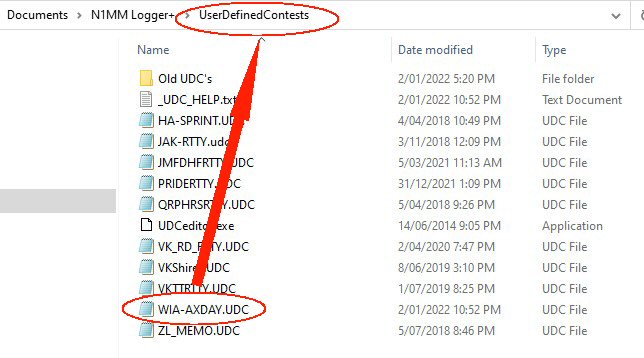 Open N1MM Logger+. Click on File-New Log in Database:
Scroll through the listed contests and select the one you have just installed.
If it is not showing then you have not copied the contest UDC to the correct folder.
Finish selecting the relevant options for the contest.
A modified city file is used for the RD and TT contests - a cty.dat file, it will need to be loaded for N1MM to score correctly. - Click on Tools - Import country list from downloaded file... - Select vkzl_cty_RD.dat file and click Open
Remember to switch back to wl_cty.dat the next time you use N1MM for a non VK contest.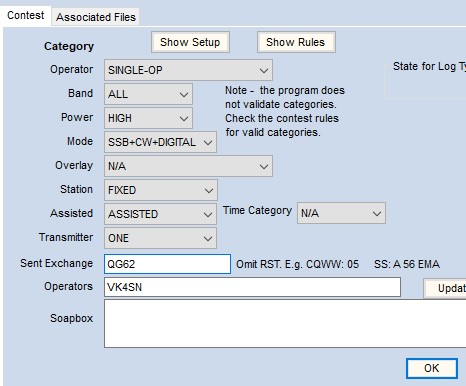 ADDING the VHF band panel to the existing HF bands:
Right click in a clear area of the entry window and select: Change Band Panel Display.
Tick the bands needed, then click Exit.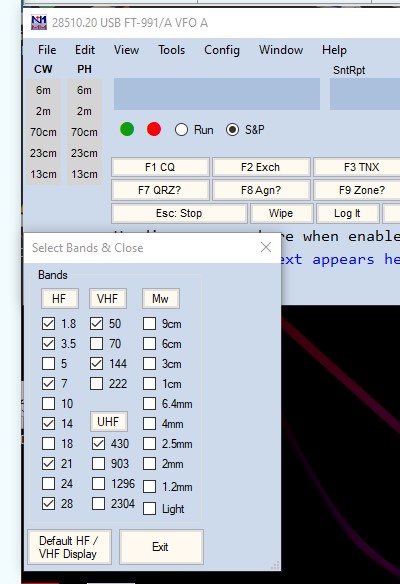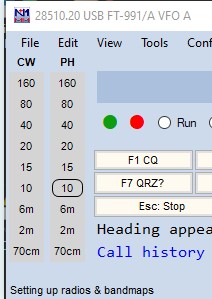 N1MM LOGGER - How to setup Call History
The RD and TT contests have call history available. On typing the call into the entry window, the exchange and name will show in the relevant fields if the callsign is in the Call History File.
Click on 'File' - 'import', and select 'Import call history...'
Select the call history file relevant to the contest in use.
Click on 'Config' and Click 'Enable Call History Look up'.
Click 'Window' and select 'Check' to show the Check callsign window.
N1MM LOGGER - How to setup Waterfall Band Map.
In Config - Broadcast Tab:
Check the Radio Checkbox and add 127.0.0.1:13063 (put a comma after each entry)
Check the Spots Checkbox and add 127.0.0.1:13063
If using SO2R Configure Radio 2 as 127.0.0.1:13065 in additon to 13063 to both Radio and Spots addresses.
Connect to the cluster for spots to show.