John Moyle Field Day 2011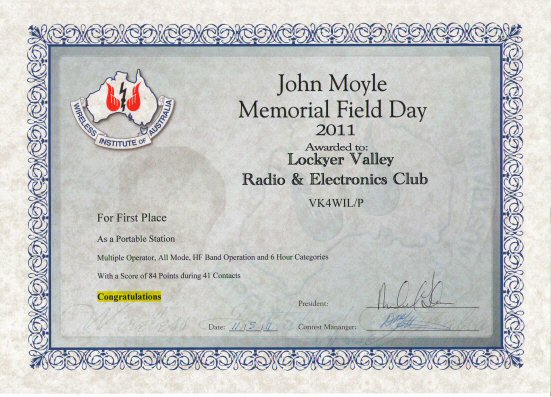 After many weeks of getting everything together for the field day, and arranging the best site possible, Friday arrived and Alan VK4SN and myself VK4QH heads up to the ridge above Laidley. We stopping in at Johns, VK4FJFM's to pick up some batteries to power the radios then headed up the range to the spot which is a cattle holding yard. Everything went well setting up the 3 element tri-bander on the pump up mast and the OCF dipole connected to the poles in the yard and finally Alan's trapped vertical connected to the trailer. We set up the operating desks, generator and the cooking table, everything going to plan.
Friday night saw us testing gear and joining in on the VK4WIL net on 3570KHz moderated my Graham VK4KML. Alan's Battery charger decided to pack it in so it was a mercy dash to the father-in-laws place to get a battery charger that would keep up to the current draw.
VK4KHP Peter and VK4FKEZ Heather came up and spent a few hours socializing at the site.
Then, Saturday morning John Moyle field day Starting at 0100Z, we woke up to a torrential downpour. Alan had put up extra Tarps to protect the gear. I exited from my cosy bed in the back of the jeep and strolled into the cattle yard, had breakfast and then waited for the event to start.
The event started and Alan and I started calling and getting a few contacts then Alan's radio started to have problems as he frantically tried to fix the problem.
I kept calling getting some more contacts. Nearing the end of the first 3 hour block, Alan had tried all he could and the FT450 was out of commission. Meanwhile the rain had not given up and there was a steady flow of water flowing around us and under the ground tarp - things were looking grim.
We hooked up the FT847 for Alan to use but then for some unknown reason we could not get VKCL to connect to the radio, by that time the rain was getting heavier.
Peter VK4MN arrived to help out but never got too, as we decided to call it a day. Everything that could go wrong was happening. So we called Peter VK4KHP to see if he would come up and help us pack up everything. He arrived 5 minutes later. The 4 of us packed up all the gear and we headed home.
Thanks to anybody else who was going to come up over the weekend, Sorry we had to end it so early.
Special Thanks to VK4KHP, VK4FKEZ, VK4MN, and those who didn't get up to help due to us leaving. From VK4QH and VK4SN
Ken – VK4QH